2018 Made in Erie Gift Guide
Hi everyone! For our first blog post, we wanted to share with you a great Holiday Gift Guide that was published by Matt Swanseger of the Erie Reader. Check it out!
By: Matt Swanseger
Consumers are more empowered now than in any other period in human history. Sure, the likes of Alexander the Great, Caesar Augustus, Charlemagne, and Napoleon may have lorded over millions (of subjects and square miles) at the heights of their empires — but did they have Wi-fi access or an Amazon Prime account? What's the shipping estimate on cardamom from the East Indies via draft elephant? Great, let's pencil "garam masala" in our meal planners six months from now (insert eye roll).
Fast-forward to 2018. The average person can order exotic goods from the furthest reaches of the globe without ever leaving the house. Not to undersell the perks of divine rights and heavenly mandates, but the god-emperors of yesteryear could not fathom the choices modern-day consumers have at their fingertips. Cat turntables? Motion-activated toilet nightlights? Yodeling pickles? C'mon, now — this isn't even fair (and yes, those are all real products available through amazon.com).
Indeed, any niche that can be filled by an online retailer has been, or soon will be. But what about those in the market for products that they can see, smell, taste, and/or touch beforehand? Or those who would like to talk about their options, in the flesh, with a live human being? Many still seek a genuine shopping experience — the pre-knowledge of exactly what they're getting and where and from whom it originated. And for that, nothing beats shopping local.
In that spirit, we bring you our annual "Made in Erie" Holiday Gift Guide, rife with great local products from great local businesses that you can visit in person, staffed by real people with real faces to whom you can address real questions and concerns (although you can purchase many of these items online as well). You'll soon know who they are (and maybe even where they live), so they'll hold themselves accountable. Eventually, they'll know who you are, too (and thus have a vested interest), so your input as an individual customer will have more sway. Reciprocity is a beautiful thing.
UNCLE NICK'S POMADE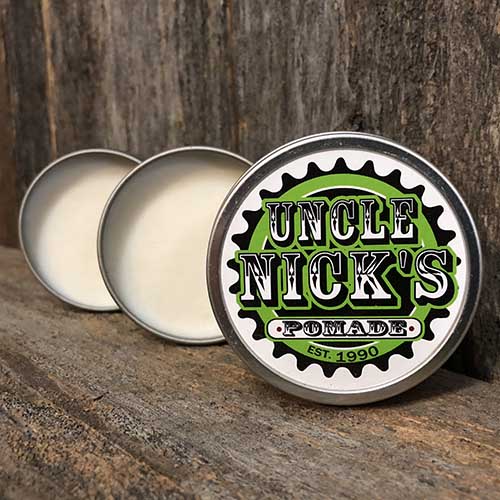 You can only control what you can control, and that might as well include your hair. Give a man free will, though, and he's destined to make terrible decisions. Sticky gels that crust over for an off-puttingly plasticine pate. Highly flammable hairsprays, heavily hampering your ability to high-kick and "hee-hee!" onstage without incident (RIP Michael Jackson). And mousse? Get out of here with that poison whipped cream.
Luckily, local barber Nicholas Robert Senita is here to save you from yourself with Uncle Nick's Pomade. Comprised of just five all-natural and organic ingredients (none which are bear fat, per pomade's earliest formulations), it lends a firm hold to just about any hairstyle without drying it out, leaving your locks soft and supple to the touch. Uncle Nick believes he was fated to own his barbershop, and cares about what's going through his customers' heads (in fact, he wrote a book about it, entitled The Meaning of Life) as much as what's on top of them. Look good and feel better this holiday season and beyond.
Available at: Uncle Nick's Barbershop, 2932 Peach St. and unclenickspomade.com, $14.99 (4 oz. container) // unclenickspomade.com
POPLUCK POPCORN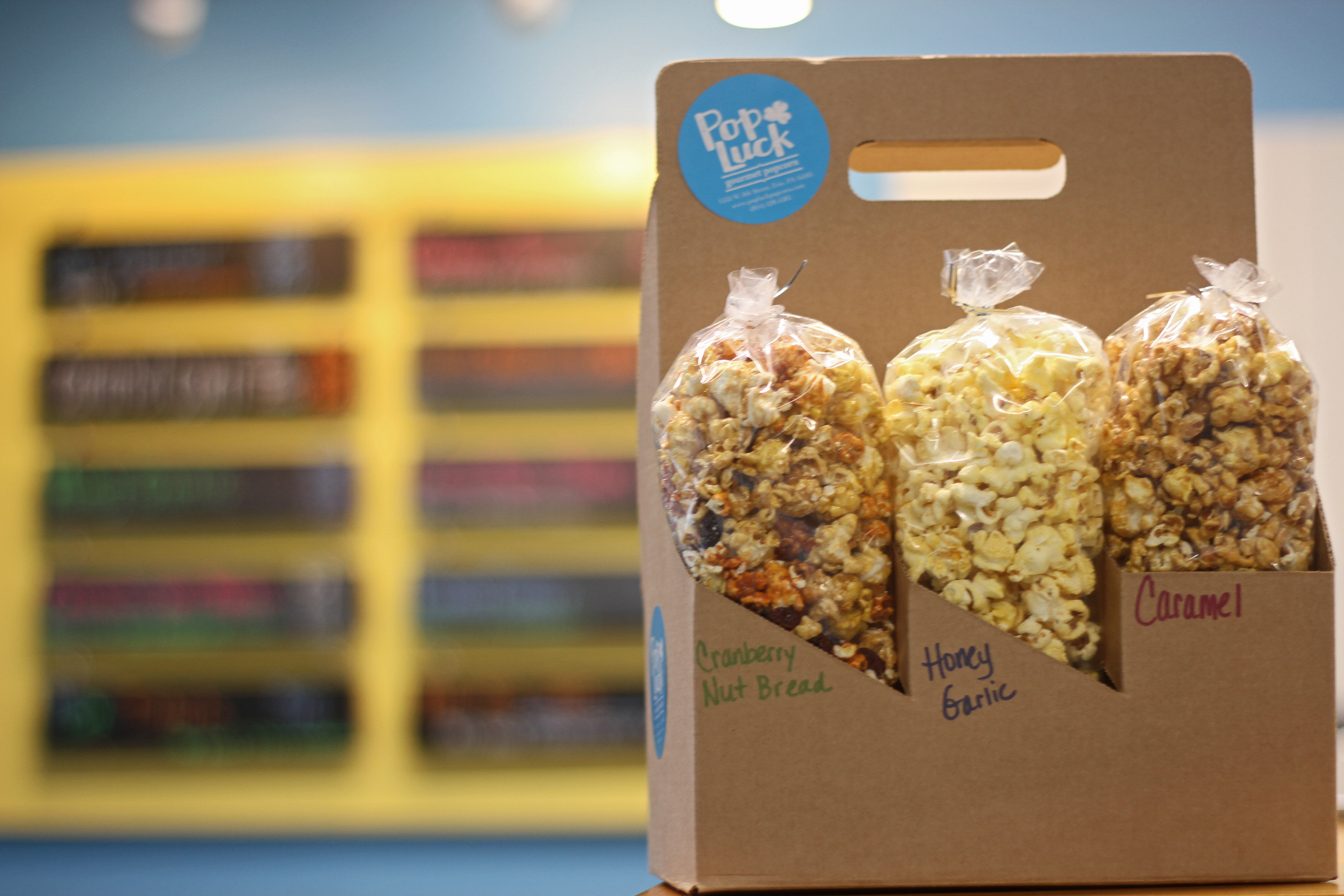 Those of a certain age will remember the agonizing slog of childhood fundraisers, canvassing door-to-door with catalogs of overpriced comestibles. One of the mainstays of these? The commemorative popcorn tin, lithographed with some charming scene on the outside and trisected into butter, cheese, and caramel compartments within. Without fail, the flavored varieties depleted in a heartbeat while the unadorned kernels grew stale from neglect.
Anything but stale is Erie's PopLuck Popcorn, with more delicious diversity than you can shake a toothpick at. Sure, the classic trilogy (salted butter, orange or white cheddar, and caramel) is represented in full effect, but that's just the top of the popper. Stop in to sample from their rotating lineup of gourmet flavors and prepare to have your mind flossed of any preconceptions of what you thought popcorn could be. In the spirit of Christmas (and nostalgia), PopLuck will be offering their own spin on tins this holiday season —the standard version ($20) will include the caramel corn and the both white and orange cheddar; the deluxe version ($30) will add two premium holiday flavors to the trifecta, Cherry Christmas (cherry-vanilla) and Oh Deer (toffee with red cinnamon, pecans, and a white chocolate drizzle).
Available at: 1535 W. 8th St., Unit A-3; prices vary // visit the PopLuck Facebook page or popluckpopcorn.com
THE THREE CHOCOLATIERS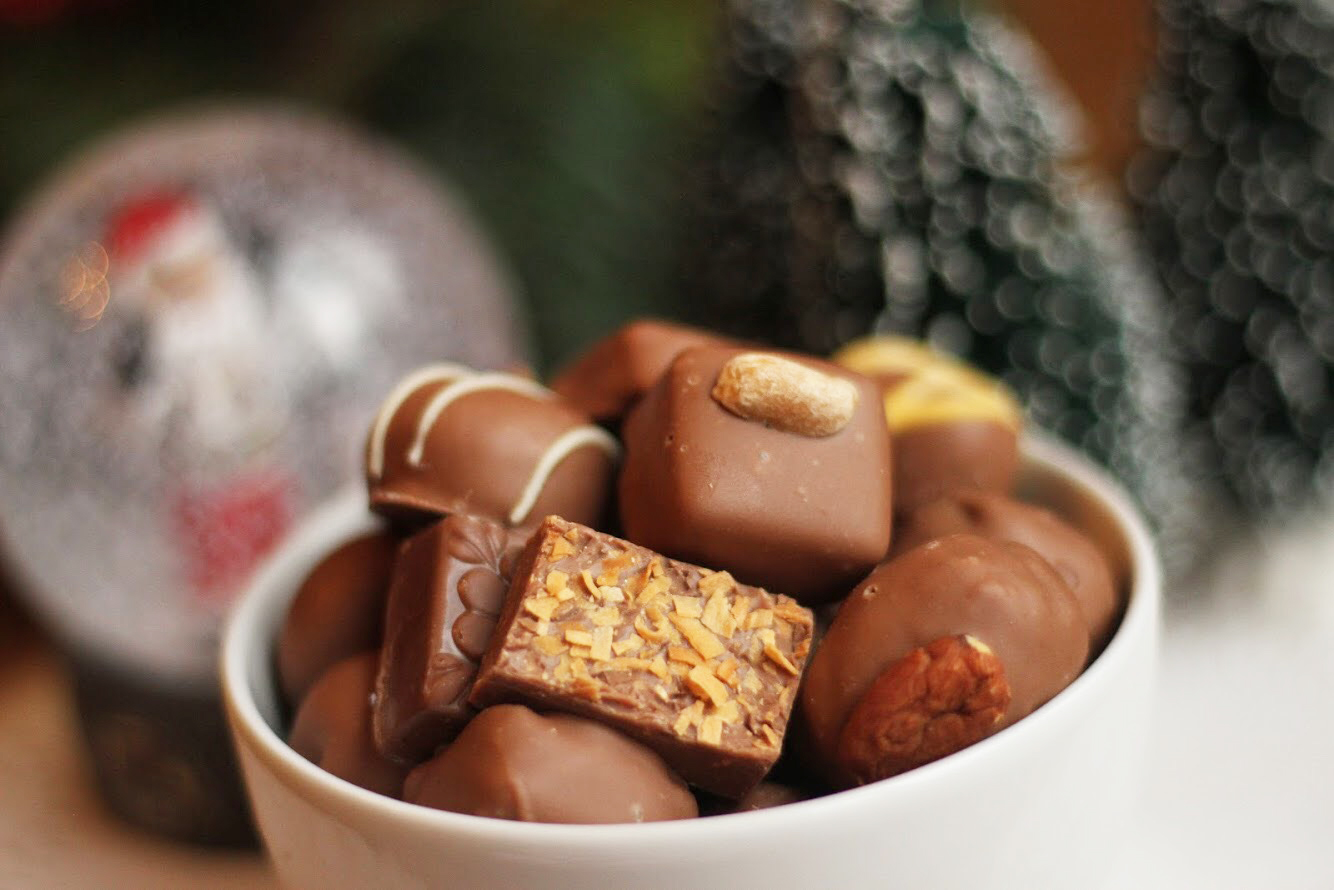 Whether you're buying for a complete stranger or your unquestioned soulmate, chocolate is one of the surest ways to cajole them into loving you a little more — or, at the very least — hating you a little less. Make friends and influence people this holiday season with Romolo, Stefanelli's, or Pulakos candies. Whether you do that with solid chocolate or their staggering assortments of enrobed nuts, truffles, cremes, caramels, fruits, and fondants is up to you. For a uniquely Erie touch, sneak in some sponge candy (AKA honeycomb toffee, cinder toffee, or hokey pokey), a simple-but-effective blend of sugar, corn syrup (and sometimes honey or molasses) heated and infused with baking soda. This creates thousands of air bubbles and a satisfyingly light, crisp crunch.
Collectively, the three area chocolatiers have over a century's experience of seducing palates with their handcrafted confections. It doesn't matter how it happens (from a bag, bar, box, or basket), it only matters that it happens. And that it melts in their mouths, not their stockings.
Available at: Romolos (1525 W. 8th St.), Stefanelli's (2054 W. 8th St.), Pulakos (2530 Parade St.) // For a full list of products, prices, and outlet locations, visit romolochocolates.com, stefanelliscandies.com, or pulakoschocolates.com
HO, HO, PO(TATIONS)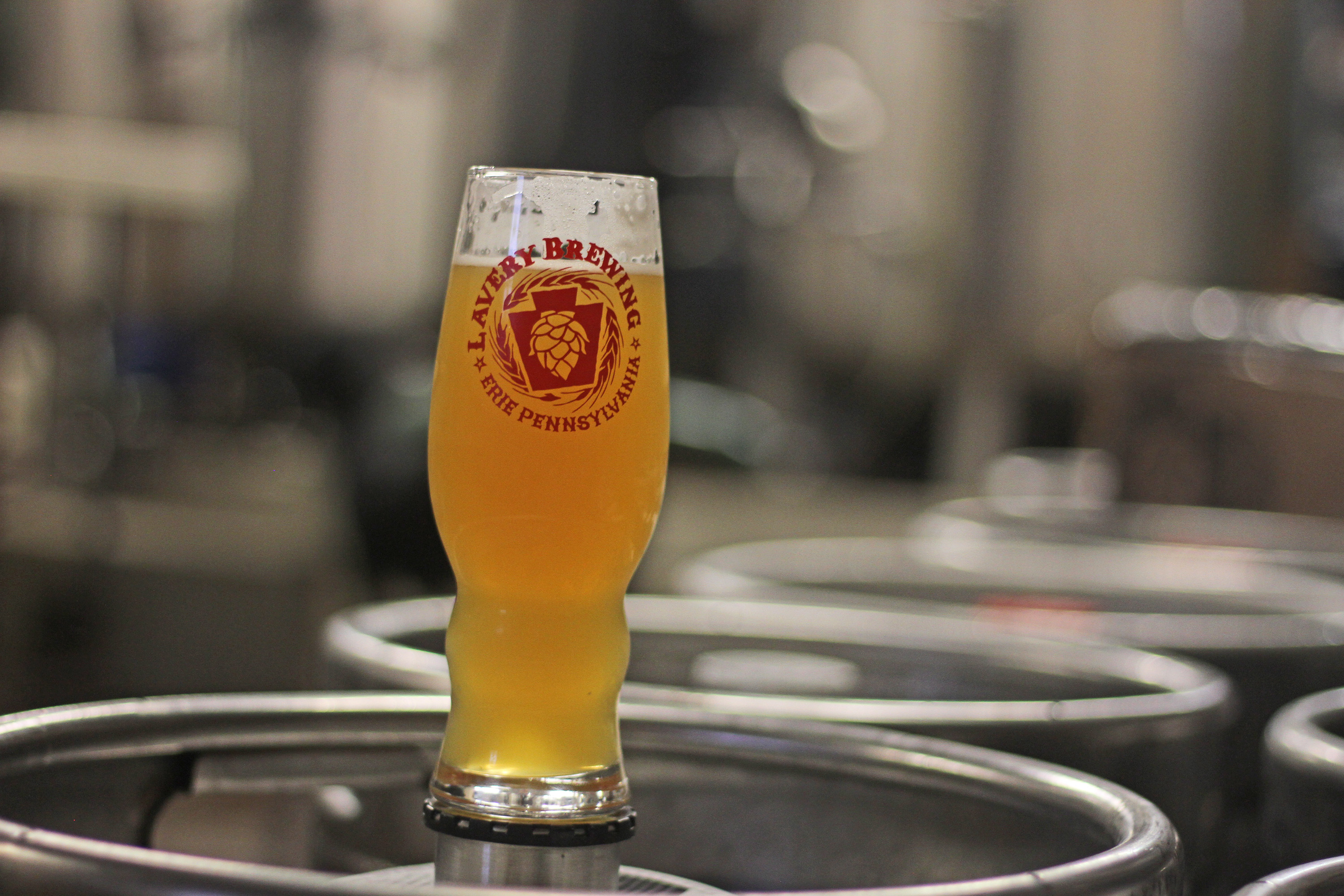 Celebrating with family and friends? Tolerating family and friends? Either way, the occasion probably calls for a drink. Pour yourself a glass of the good stuff from the region's impressive array of libation-makers.
The constituent breweries of the Lake Erie Ale Trail boast a bevy of options for your resident beer enthusiast. Thus far, only Lavery, Erie Brewing, Five & 20, Timbercreek, and Voodoo distribute, but if you stop into Millcreek Brewing Co. or Arundel Cellars & Brewing during their operating hours (Thursday through Saturday), you can apply to become an Ale Trail Enthusiast member for $75. You will receive a membership passport (valid for one year) and an official LEAT 64 oz. growler that can be filled at any of the 14 participating breweries (one fill per month, no repeats). For addresses and more info, visit lakeeriealetrail.com
Need to get your holiday spirit a little stronger? No worries, Luminary Distilling (8270 Peach St., Summit Township), Cart/Horse Distillery (12030 Edinboro Rd., Edinboro, PA 16428), and Five & 20 Spirits & Brewing (8398 W. Main St., Westfield, N.Y. 14787) will have you caroling (in tune?) in no time.
"Airing of Grievances" monopolizing your holiday get-togethers? Give them something to "wine" about with a bottle from any of the 23 wineries situated in Lake Erie Wine Country. Should they have a gripe with grapes, you might honey them up with some mead from IronStone Meadery (9333 Tate Rd., Greene Township) or Cambridge Cellars (22716 US-19, Cambridge Springs, PA 16403).
EFFORTLESS ART CRAYONS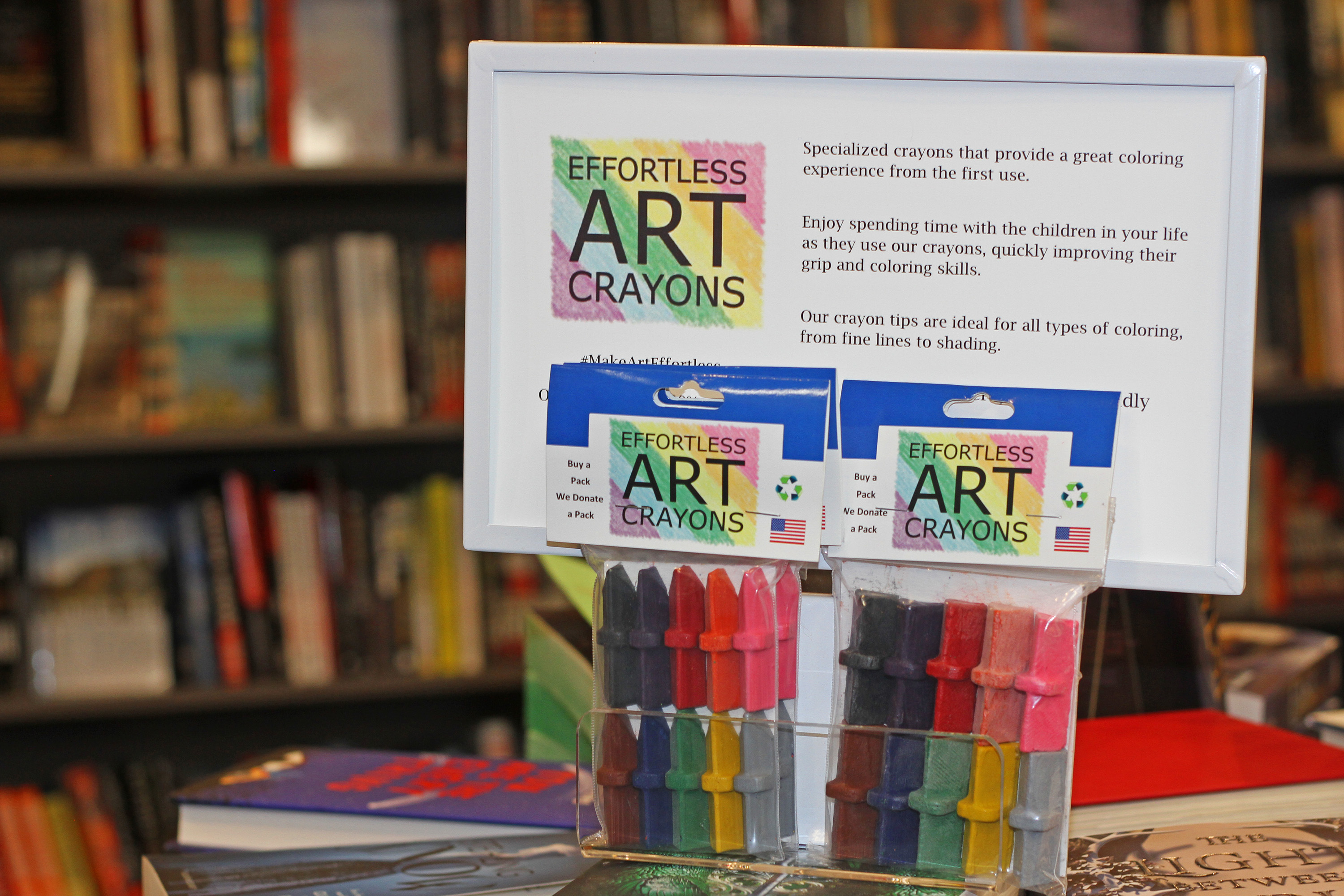 Get a grip on your child's artistic development with Effortless Art Crayons. These crayons feature a patent-pending middle grip that is more accommodating to the natural tendencies of developing children. This innovation was devised by local husband-and-wife duo of Jason and Nancy Morris of Two Sparrows Learning Systems. Nancy, a former special education teacher and current instructor at Gannon University, was fed up with watching students struggle with conventional crayons. Jason, with his background in mechanical engineering and product development, had just the tools to help.
The crayons are designed such that the youngster can "graduate" to the static tripod grasp typical of older children. Every Effortless Art Crayon is triangular in shape, but the "Level 2" crayons are narrower with a beveled tip, acting as the perfect transition to the brand name Crayolas, et al. Color yourself impressed as your budding Rembrandt's artistic abilities take off, while also coloring yourself relieved that Two Sparrows uses only eco-friendly materials and packaging in every product.
Available at: effortlessartproducts.com
WILLOW CREEK BARN WOOD FURNITURE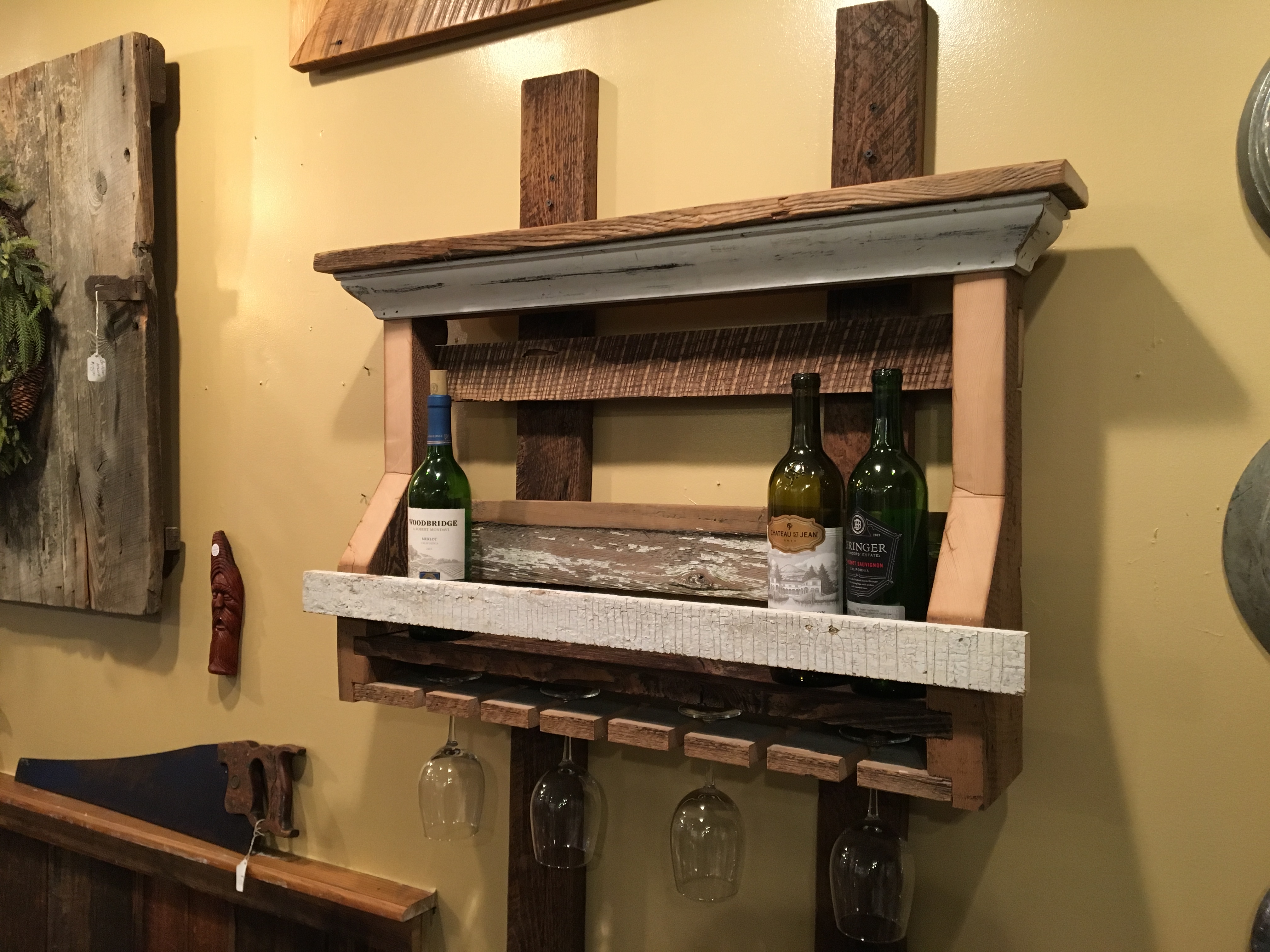 Not since the Nativity has "being born in barn" carried such noble connotations. Willow Creek Barn Wood Furniture, a small, family-owned venture operating out of Edinboro, aims to preserve the history, beauty, and rustic charm of old barn wood by refashioning it into fixtures of every ilk for your home or office. Sick and tired of the same ol' wick? Let that wax wane in style with a barn beam candle holder. Blasé about the state of modern wall hangings? Spruce things up with a Willow Creek bottleboard — you'll be the most "poplar" guy or gal in town. That's just a sliver of what's available — check out the sturdy coat and wine racks, farm tables, and more.
The ingenuity and craftsmanship of father-and-son co-founders Chris and Casey Brown is evident in every Willow Creek creation. Together, the duo has helped dismantle two historic barns, The Kane Barn (Kane, Pa.) and Goodell Barn (from Edinboro's own Goodell Gardens), salvaging every bit of lumber they could muster. If they don't use it, they'll lose it, so they're more than willing to take on your custom projects — just ask for a free quote.
Available at: 111 Erie St., Edinboro, PA 16428 or willowcreekbarnwood.com
GOOD SCENTS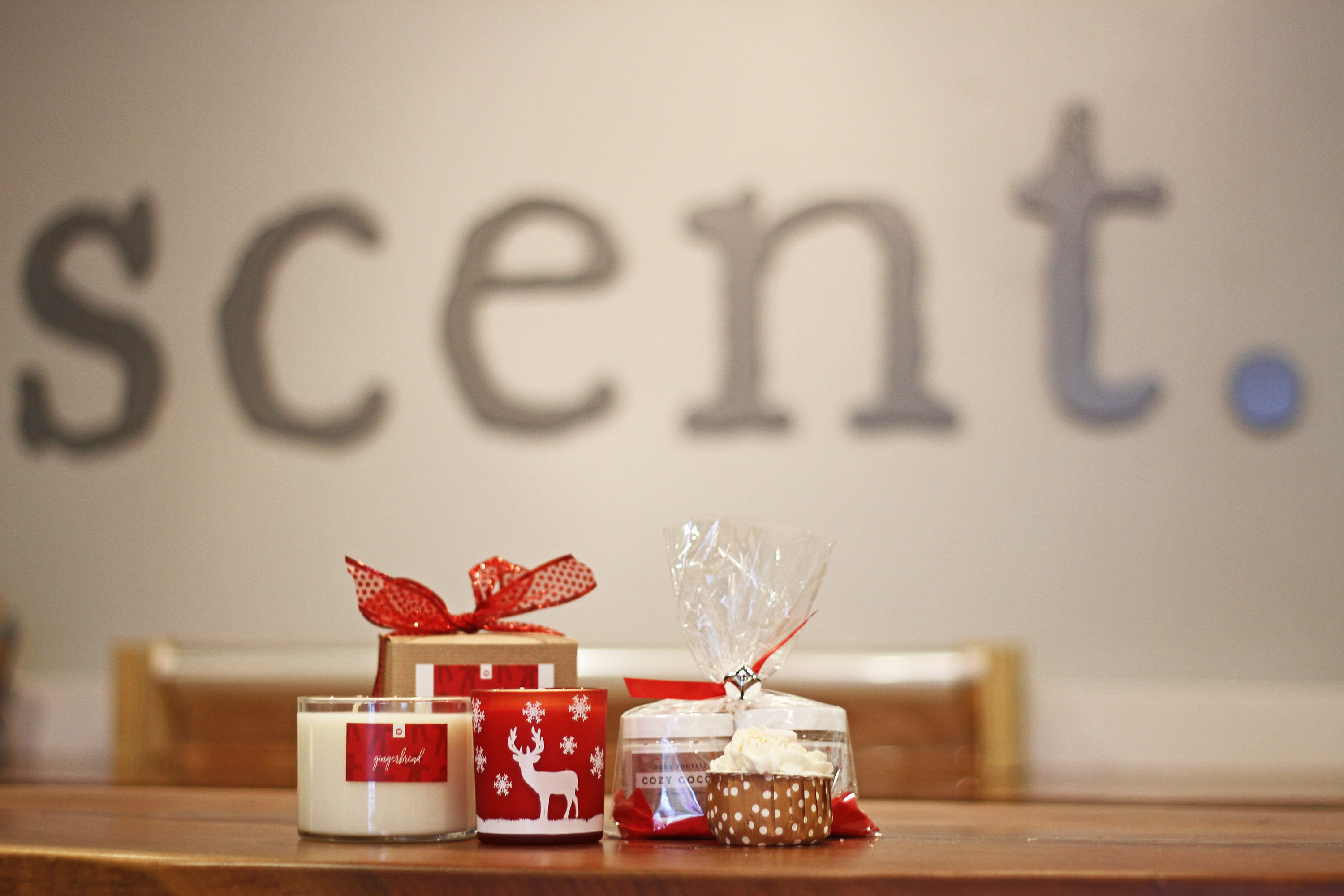 Always fragrant but never foul is the Colony Plaza's Scent, a boutique merging local businesswomen Leah Show's Candle Box Company and Janice Fatica's Pink Cottage Soaps. Together, they seek to make a positive impact on your home, your health, your hygiene, and the environment — which we could all agree needs some cleaning up.
How so? Well, consider that many scented candles are composed of paraffin wax, a petroleum by-product that may release carcinogenic compounds into the air when burned. Candle Box candles are handmade from soy wax, which burns slower, cleaner, and carries the additional benefit of supporting U.S. agriculture.
The soaps and shampoos you use every day contain a host of potentially harmful chemicals, including parabens, sulfates, and/or triclosan (banned by the FDA in 2017). Pink Cottage Soaps offers a full line of beautifully crafted, all-natural, and non-irritating soaps, bath bombs, lotions, and scrubs. Smell better, smell smarter with Scent products.
Available at: 2564 W. 8th St.; available online at scent-gift-shop.business.site or candleboxcompany.com
JUST BOOK IT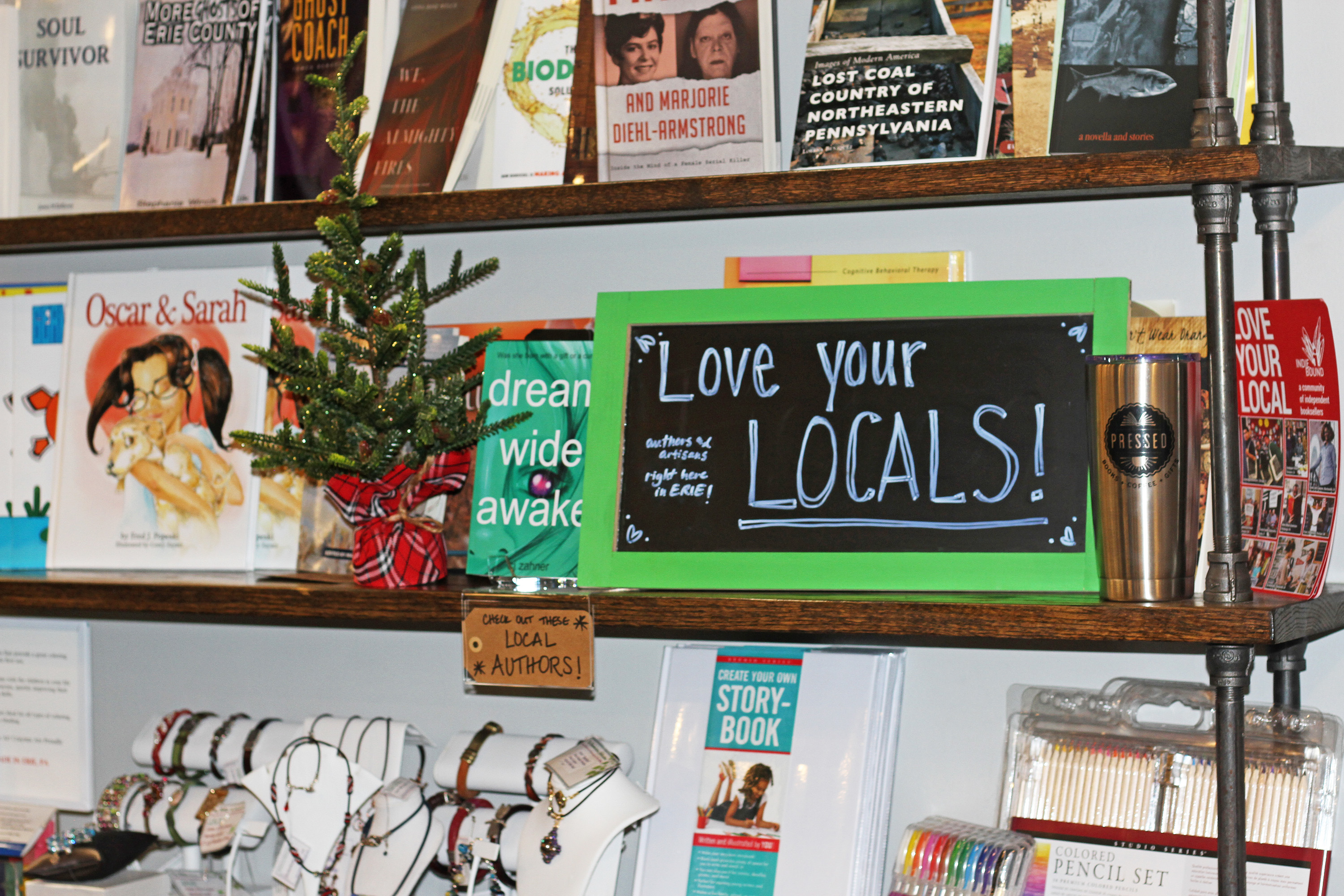 It may be 2018, but print matter is far from passé at Pressed Bookstore in the Greengarden Plaza. The 4,000 square foot space began with owner Tracey Bowes' passion for discovering "quality through the five senses," and she has followed through by providing "an old-fashioned tactile experience with a fresh style." Yes, you can pick up, touch, and leaf through bound, printed volumes of all kinds within the store's cozy confines, including those sourced from right here in Erie.
The "Love Your Local Authors" section, nestled in the back corner of the store's central area, allows readers to immerse themselves in Erie histories, legends, lore, and even field guides of the region's flora and fauna. Proponents of prose might be treated to fiction from the likes of Tom Noyes, Rebecca Kightlinger, CJ Zahner, Laura Weber, or James DeHaven. The more lyrically inclined may lend their eyes to the work of "40 Under 40" alumna Anna Rose Welch or 2017-18 Erie County Poet Laureate Marisa Moks-Unger. There's talent all around us; finding it may be as easy as looking between the pages.
Available at: 1535 W. 8th St., Unit A-2; visit pressedbooks.com
TREAT YOURSELF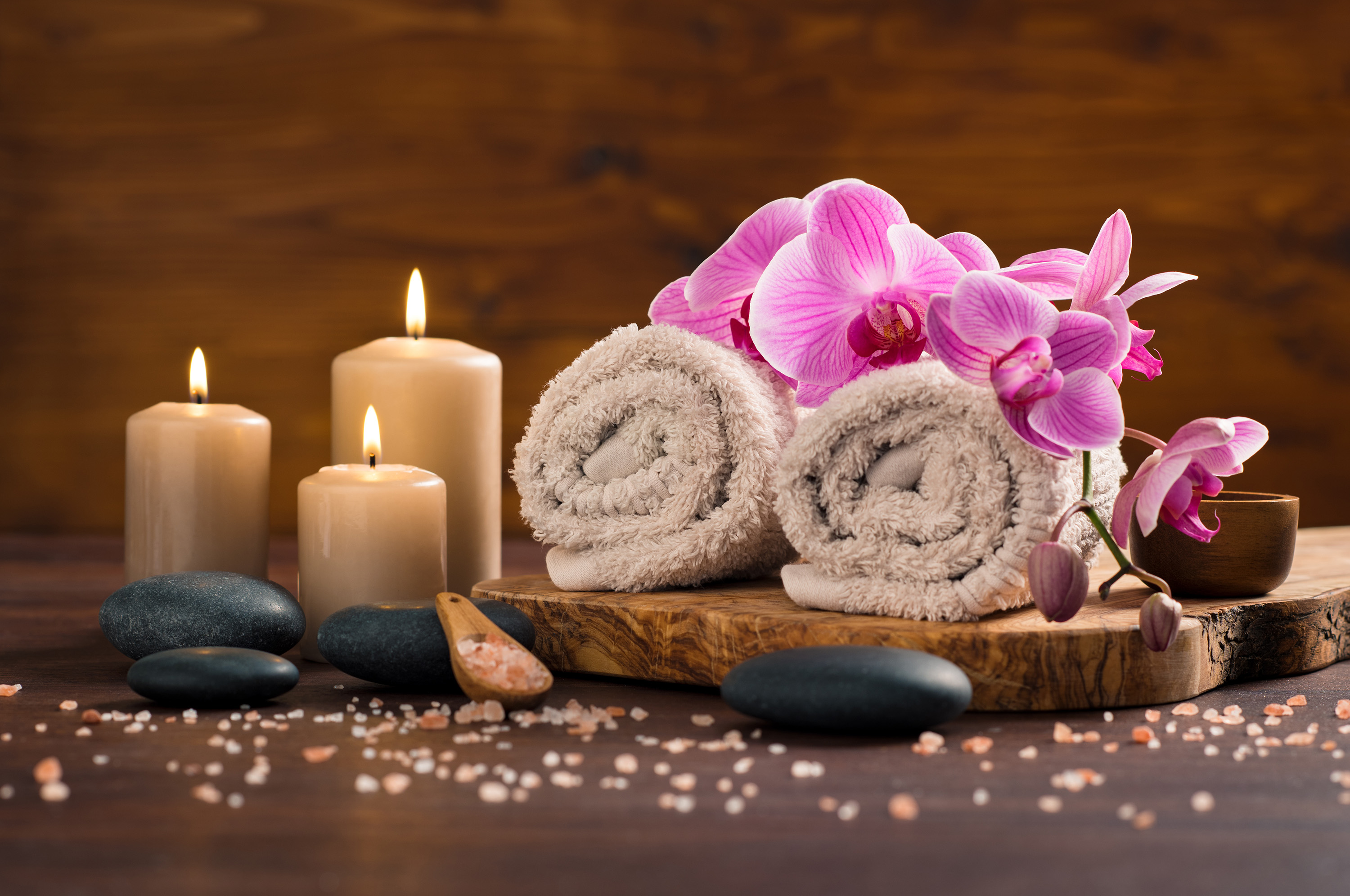 There are 650 skeletal muscles within the human body that have a name; when was the last time you took roll call? Well, if there's ever an occasion to acknowledge the underappreciated or long-forgotten, it's the holidays — even if those descriptors apply to you. Whether you're after a simple rejuvenation or a total reinvention (head-to-toe wax, anyone?), a day at the spa or salon could be just the solution. Give yourself and/or a loved one permission to be pampered by the licensed experts at Panache Salon and Spa, Monacella Massage & Kinesiology, or Massage Envy.
The physiological and psychological benefits of massage are very real; it's been shown to lower stress, promote healing, and improve posture. These businesses are certainly no slouches in other areas as well — for instance, Panache offers a variety of world-class hair and skin care products, jewelry, and even custom gift baskets. Monacella's mini-retreat packages represent escapism at its aromatherapy-enhanced best. If there are athletes in your family, it might behoove them to employ Massage Envy's professionally-assisted full-body stretching service, the Streto Method. Limber up your mind and body and your mood's sure to loosen up as well.
Available at: Panache (2501 W. 12th St.), Monacella (1001 State St., Ste. 1322), and Massage Envy (2070 Interchange Rd., Unit 220)
SHAMELESS PLUG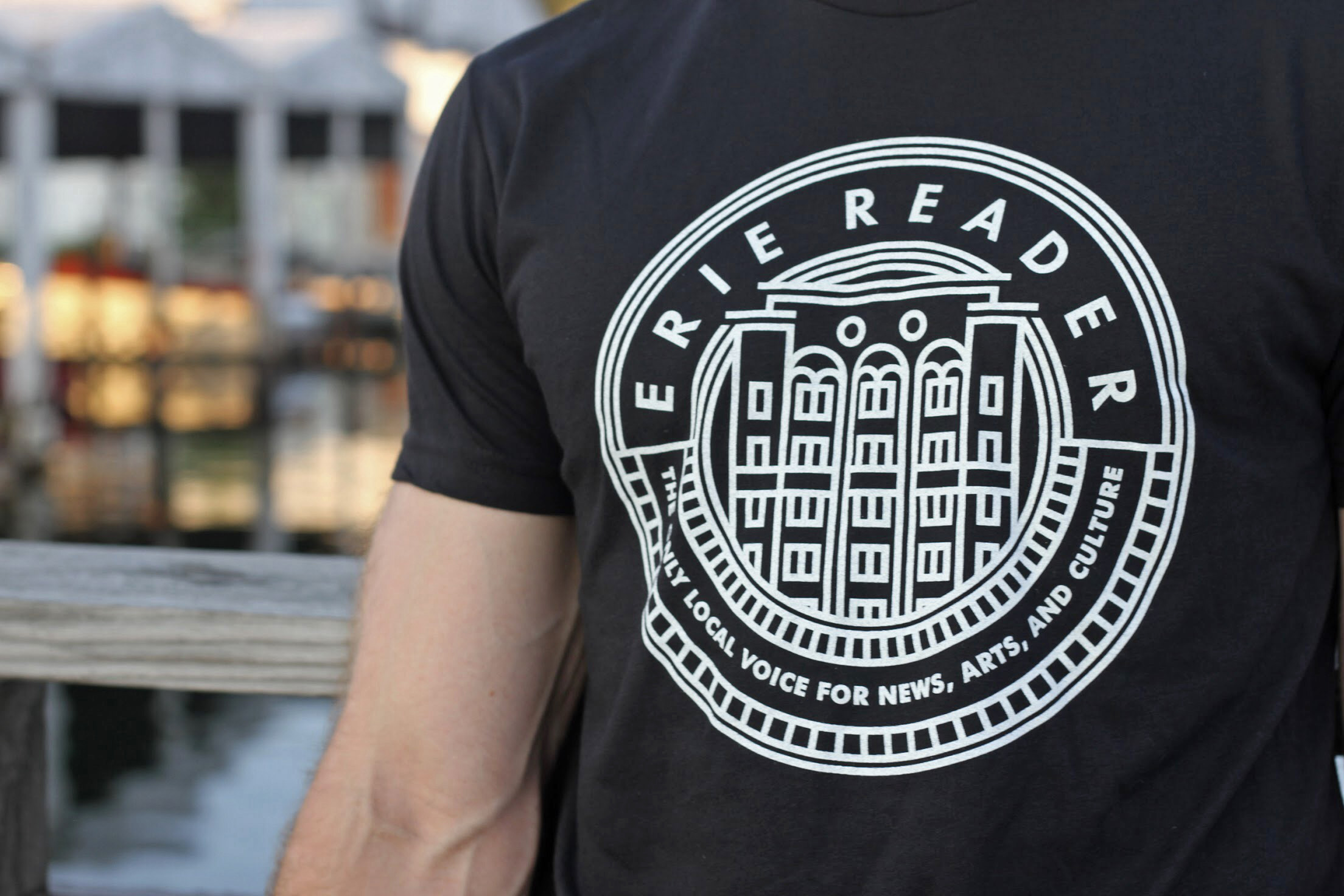 We couldn't leave you without pushing the company swag. The folks at Erie Apparel have fashi
oned us three awesome t-shirt designs available for sale now at shop.eriereader.com. The first displays a stylized Renaissance Building (our office's current headquarters) encircled by our company name and slogan in white on a black background. The second tee comes in an assertive olive green with the company logo on the chest in black. Last but not least, we have our "Read Local" shirt, featuring a flowing script upon a lovely blue backdrop.
We thank you and encourage you to continue reading local, and supporting Erie-owned businesses by buying local as well.
Available at:  shop.eriereader.com
 All photography by Jessica Hunter (except for Uncle Nick's Pomade, Willow Creek Barn Wood Furniture, and Spa/Massages - by Rido/Adobe Stock)
The name "Matthew" is derived from the Hebrew word for "gift of God." Matt Swanseger hardly feels worthy of such a conceit —or your emails — but feel free to forward them to mswanseger@eriereader.com anyway.
 https://www.eriereader.com/article/the-2018-made-in-erie-gift-guide?fbclid=IwAR0f6uJ2qp6u2IUjClwOdHnO76oddepWuwNFnB8YuBsBkMCXnVhey3sVQ8s